Tom Cannon - Internationally Renowned
Ceramic & Bronze Artist

A second generation ceramic and pottery artist (Tom's mother was a New York ceramist)
Tom grew up immersed in the language and understanding of clay and expressive art.
Tom's dad was also an art director in Manhattan.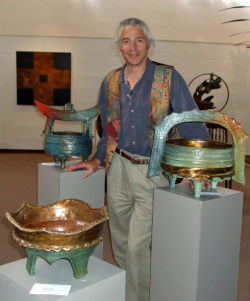 Tom with some of his bronzes on exhibit at Shidoni Gallery in Santa Fe.
About Us

Tom Cannon created Tom Cannon Art in 1993, after returning from Japan as a place to display and sell his works in Boulder. Tom inherited his unique gift from his mother, a New York ceramist. He was further influenced by his father, a Manhattan art director. Some of Tom's bronzes are on display at his showroom in Boulder and can be also be purchased at these fine galleries:

McHugh Gallery; 607 East Copper Avenue; Aspen, CO
970-925-4212; mchughaspen@me.com

A Hint of Asia; 223 Gore Creek Dr; Vail, CO
(970) 779 0348 www.ahintofasia.com
Vivi@ahintofasia.com

Reflection Gallery; 201 Canyon Road; Santa Fe, NM
505 995 9795 info@reflectiongallery.com
www.reflectiongallery.com

Tom's professional career began with 13 years in Japan, which included an apprenticeship with master potter Yasuteru Miura Sensei in Kyoto. His early works were displayed at Yamaki Gallery in Osaka. Tom further delved into ancient cultures by visiting Thailand, Nepal and India.

In Boulder, Tom furthered his studies at the University of Colorado with Betty Woodman. When the opportunity became available, he eagerly returned to Japan to hone his skills and eventually built his own wood-fired kiln and sold his work at top venues in Tokyo, Osaka, and Kyoto, including the art department galleries of Takashimaya, Hankyu, Daimaru, and Isetan Department Stores. Tom's work is found in many private collections in Japan and throughout the United States. His work is also available as commissioned art.

Tom Cannon Art presents an assortment of creations from Tom. Art pieces are available through the galleries listed above, from this website, or as commissioned works, for individual purchase or for display at galleries or exhibits. Tom's art is broken down into three general categories; fine art cast bronze, raku-fired ceramics, and functional pottery, which he learned from the masters during his thirteen years in Japan. Please call or email if you need additional information on a particular piece.

Galleries and individuals wishing to inquire about purchase or commission of Tom Cannon's fine art ceramic and bronze pieces, can contact him here.





---