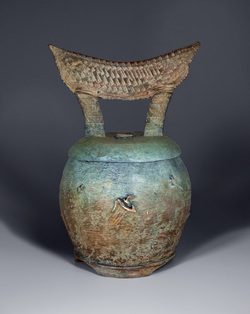 Eternal Spirit, Cast Bronze, 15" H. x 10" W. x 8.5" D.
Vessels / Memorial Urns
Containers that hold the ashes of loved ones are commonly referred to as cremation urns. I choose to think of those I create as departure vessels. For me they also serve as the vessels for those who have left this life and are continuing their journey.
Each person's life represents a very personal journey filled with memories. It is fitting to celebrate that person's unique life with sacred art - a special memorial vessel whether it is made from cast
bronze
like
Eternal Spirit -
$3200, or simple unfired clay. The bronze vessels are particularly enduring and are suitable for outdoor memorial gardens.
All of my vessels are personal expressions of the years that I have devoted to my craft. Having trained in Japan for thirteen years where cremation has been the custom for generations, I can create a very personalized, unique piece honoring the spirit and soul of the individual. My bronze and ceramics are all fine art vessels that will help celebrate a loved ones life with dignity. This section features several examples of departure vessels that I have made in either bronze, ceramic, or unfired clay, which will gently biodegrade over time.
I am also happy to create a custom designed memorial vessel to honor the life of a loved one. Please contact me to discuss how I can best accommodate your wishes. It is my intention to use all of my skills as an artist and a spiritual being to create from my essence the very finest memorial vessels.
Tom Cannon
---

The arch of Eternal Life is my stylized interpretation of the torii, or gateway found at Shinto shrines. It signifies a portal as in a passage way for those, who have left this world and are continuing their journey. A tree of life has been carved on both sides. The limbs of the two trees stretch around the vessel connecting with each other. The conection represents the bonds of love, which remain intact even when a loved one has preceded us on their journey.

$3200


Vibrant Red Urn or perhaps more romanctically, Sunset on the Stupa, which speaks to the way that light dances with this translucent patina. The colors of which glide from gold on the bottom through red along the rim and onto the cover and finishing again with gold on the top.

$3400






Jade Treasure has the Japanese symbol for "Heart," or "Spirit" on the arch, which has been polished along with the rim to reveal the underlying bronze. The urn has been finished with the color of ancient jade. $3800