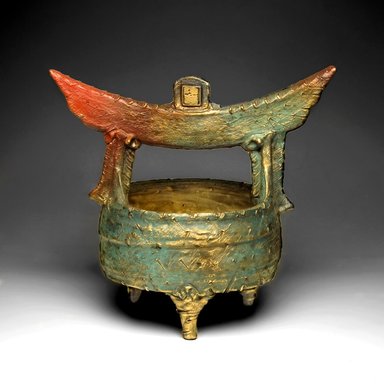 ​​Tom Cannon Art
​
Internationally Renowned Bronze and Ceramic Artist and 21st Century Lineage Holder of the Kawai Kanjiro Tradition of Japanese Art*
---
Ceramic & Bronze Sculptures Made By Artist Tom Cannon
Tom Cannon Art
is where you can browse and purchase the art of an internationally renowned
bronze
and
ceramic
artist.Tom Cannon, 21st Century Lineage Holder of the Kawai Kanjiro Tradition of Japanese Art*, produces beautifully authentic ceramic and bronze vessels; ideal accent pieces or a special memorial to loved one who has passed. Influenced by the aesthetics of the Orient, the works of Tom Cannon are truly unique. His skill and firsthand experience with the Japanese culture, including thirteen years spent learning from respected masters, are clearly evident in every creation.
Each vessel reflects the grand tradition of ancient bronzes from the Orient. These sacred vessels were once used in China to channel ancestors to seek guidance and send prayers to the Great Beyond. Tom frequently returns to Japan to renew his creativity and further immerse himself in the culture of the region. This dedication is reflected in every piece available through
Tom Cannon Art
.
Based in Boulder, Colorado, Tom Cannon brings his influences to works he creates and sells through
Tom Cannon Art.
Transcend time and space and discover the beauty of fine craftsmanship for yourself. Whether you are looking for a soon-to-be treasured addition to your art collection or a way to honor a loved one with a beautiful memorial urn, you'll find plenty to choose from among Tom's bronze and ceramic selections. You may also choose to have Tom custom create a bronze or ceramic piece for you.
Tom Cannon Art
130 31st Street; Boulder, CO 80305 303-817-3498
email: tom@tomcannonart.com
*Kawai Kanjiro was one of the greatest masters of Japanese ceramics in the 20th century. His studio was in Kyoto, the traditional capital and center for the arts. I was fortunate to have studied in his lineage.